In our laundry rooms, open 7 days a week, you will wash and dry all your laundry in just 1 – 1,5 hour.  We provide modern machines with a capacity of 6.5 kg – 20 kg.  Large dimensions are no longer a problem!
Diverse washing programs, machine disinfection and our professional laundry chemistry allow you to properly take care of your things.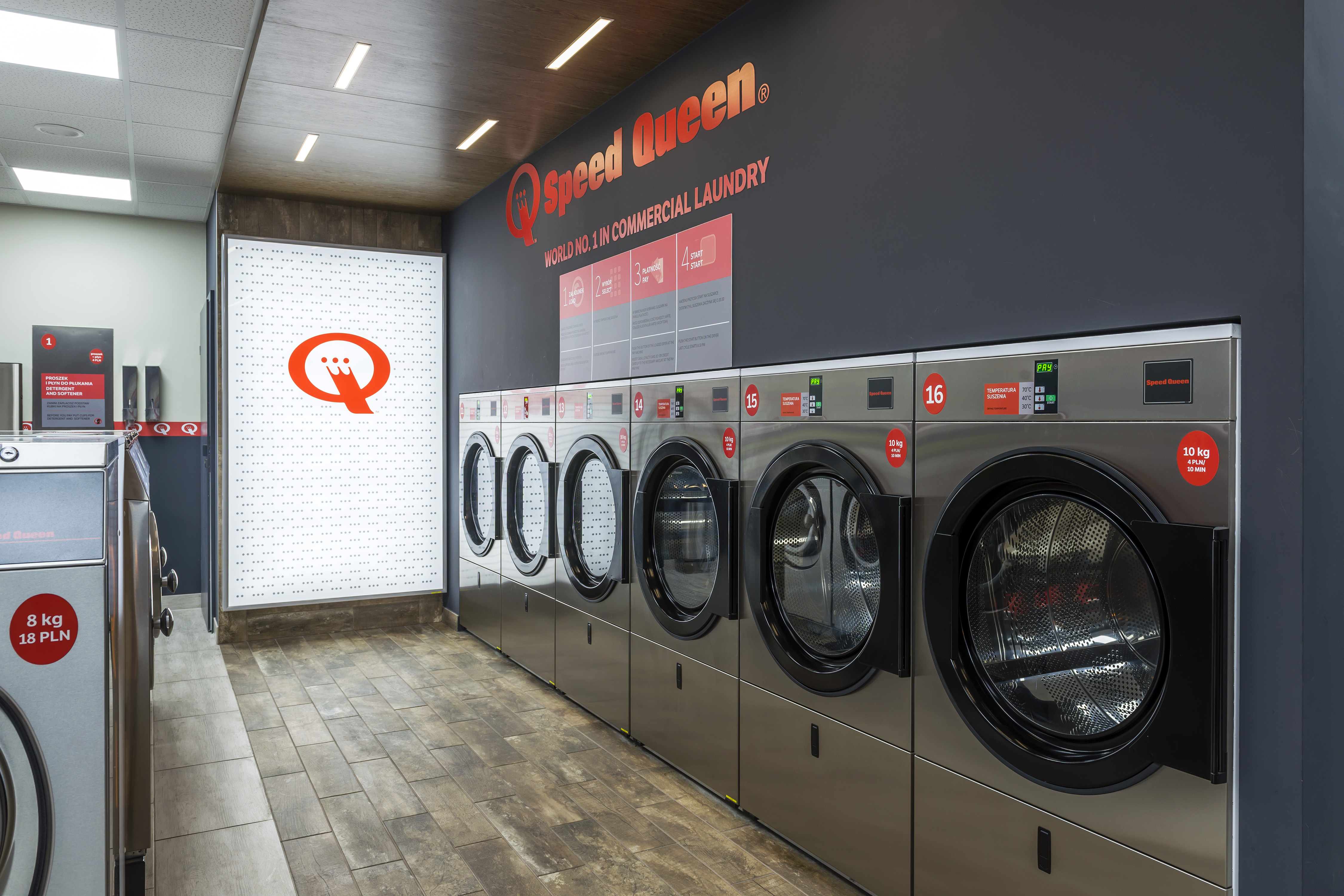 The washing temperature should always be set as described on the label.
Below are washing programs for our 2 locations: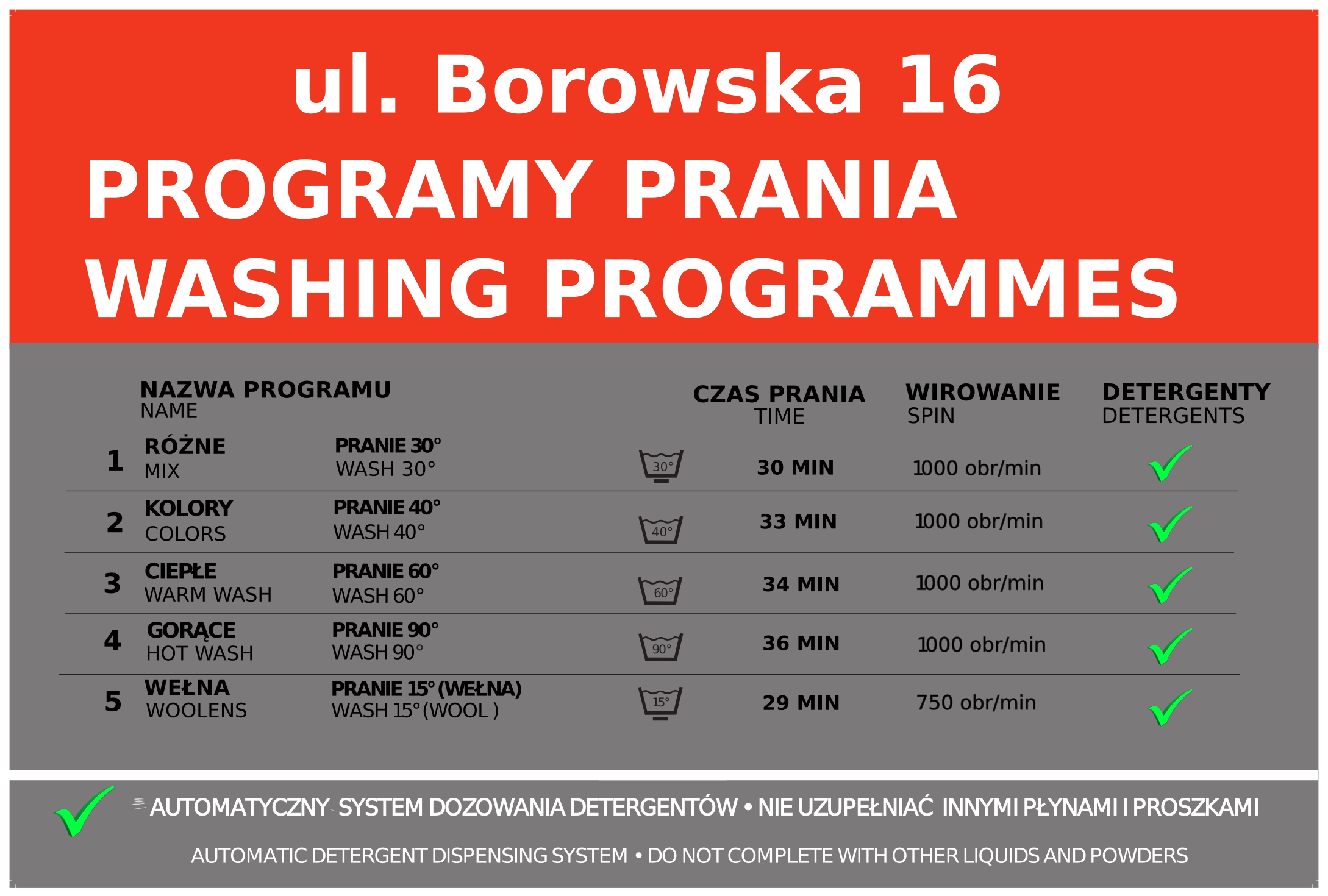 It's no use hanging the laundry – after washing, use the dryer and take home dry clothes!
In the laundry at Borowska 16 street there are eight dryers with a capacity 15 kg, at Kurkowa 14 street:  six dryers capacity 10 kg. To dry the laundry effectively, load the dryer halfway and choose a drying temperature similar or 10 degrees higher than the washing temperature, or follow the directions below:
The choice of the drying temperature depends on the type of fabric
| | |
| --- | --- |
| Temperature | Purpose |
| 30°C | lightweight fabrics, wool |
| 40°C | cotton fabrics, jeans |
| 70°C | bedsheets, towels |
Recommended drying times:     
Synthetic fabrics  20 – 30 min    

Shirts, delicate fabrics, underwear  30-40 minutes    

Cotton fabrics, mix synthetic + cotton for about 40-50 minutes   

T

owels, bed sheets, jeans 50 – 60 minutes    

Down jackets approx. 40 – 60 minutes    

Feathers min. 60 minutes
Attention! Only spin on the laundry in the dryer.
 In the laundry, it is strictly banned to wash and dry animal clothing, animal beds and fabrics with animal hair, mops, footwear, work clothing soiled in lubricants, objects with metal, sharp elements that can damage the device, i.e. backpacks with frames, screws, etc.
How to Use the Self-service Laundry?
Tips before washing:
empty the pockets of clothes, secure zippers, buttons, hooks and Velcro;
do not put in the washing machine clothes heavily soiled with mud, clay, glue, plaster etc.;
do not overload the washing machine;
do not slam the door;
To buy detergent and softener:
select no 1 on payment system
pay
put cups
press the buttons on the detergent machine
To Wash the Laundry, You Should:
put the laundry into the washing machine and close the door;
select the desired program using the arrow keys up – down;
pour the powder and liquid to the respective compartments, which are located in the upper part of the machine;
make a payment in the payment panel;
press the green START button on the panel of the washing machine;
To Dry the Laundry, You Should:
put the laundry to the selected dryer and close the door;
select the drying temperature;
select the drying time (available options are 10 min, 20 min, 30 min and 40 min) and make payment on the payment panel;
press the START button on the panel of the dryer.
Detergent Dosing:
I – prewash powder
II – wash detergent
III – liquid detergent for the main wash
IV – rinsing liquid